When I first read about Google Reader going away (July 1st) I was a little miffed. I have been using Reader since I first discovered blogs several years ago. Never tried anything else, never felt the need to. I loved the tags and being able to read all my blogs in one neat and tidy place.
It just hit me out of the blue...I don't really NEED reader. In fact, I found that I wasn't even using the tags anymore. I hadn't used the tags since I my obsession with Pinterest began. I am visual. After re-reading a post on

Free Technology for Teachers

, I made the move to

Feedly

. It was a bit of a rash act, motivated by my realization that my attachment to Reader, and my response to it's demise, was a flicker of resistance to change, even when there is something better out there. I had visions of my mother who refuses to learn anything new related to tech. (Love you Mom, but you're so stubborn when it comes to technology!)
In a matter of moments I was up and running with

Feedly

, and it was fab.u.lous. Remember, I am visual, and Feedly is so much more visually appealing. No more utilitarian look and feel - although that look is an option with Feedly. There are a variety of ways you can customize Feedly to give it a look and feel that makes you happy :)
The Android app is also so much better than the Reader app. I love to catch up on my blog reading while I'm waiting on the kids or whenever I have a few extra minutes! I feel so much more efficient on Feedly, and I love that I can share on a variety of social media from within Feedly.
I love Feedly and I haven't looked back. If you're still using Reader, make the switch! You won't regret it!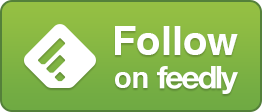 You can follow me on Feedly too! Notice the little Follow Me On Feedly Button on the sidebar?
Click it to quickly and easily follow me on Feedly!